Het verhaal van Daniella Klaudia Dávid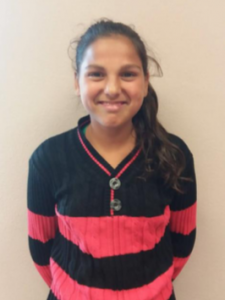 My name is Daniella Klaudia Dávid and I am eleven years old. I live in Gálospetri with two siblings and my mother. I have been in the after-school in Gálospetri since I was in my first grade, and now I am in the fourth. I like this after school very much, we've got used to it, so I'm deeply sorry to leave it.
I like to come here, because here we are experiencing very good mood and atmosphere. The company is very good and we laugh a lot. I also like to learn very much, especially together with the teacher, because she can explain everything very well. We sing a lot that I really like.
We are learning songs for Christmas, Easter, Thanksgiving, and for the Bible Stories. It's also good to come here, because I learned to read, write correctly, and the mathematics, and also drawing beautifully and colourfully. Our special Fridays are also very good, when we have something to cook, and then we keep a so called Bible Club.
If I were not here, I would be silly an d could not read and write. I must be a tramp, or I should go to work, so I could not do the homework. If I grow up, I w ant to get the driver license at right , but I know I have to be smart, and here I can learn a lot. If I can write and read I can go to work. If not, no chance to work .
I'm glad that I had chance to be here for four years because I've learned a lo t. If I grow up , unfortunately I can not come here anymore , but I'll always remember what I've learned here. I will never forget the teach er, and the good company .
Thank you for giving me the chance to attend this after school, because I'm always happy here!